Welcome to Sarap.Online - Turkish Wine and Raki
Sarap.Online is an online shop for Turkish wine and spirits. We have made it our mission to bring you closer to Turkish wine and raki. You can buy an ever-growing selection of Turkish wines here, the country rightly called the cradle of wine.
New Products
We have added the original Turkish Hünkar Rakis and, after a long time and work, the Kulüp Raki to our range. We have also added new wines from Shiluh to our portfolio. Try the new products, we look forward to your opinion.
---
This is what customers say about us
You can't ask our other customers how our service is, but just take a look at their reviews.

With every order, we do our best to satisfy you. And you can rate us independently on a neutral platform.

Please make use of it, too, and tell us and other customers how you felt about working with us.

We look forward to offering you the best possible service.
We visit our winemakers on site
That's us, get to know us.
Wines from Turkey.
Quality that convinces.
If you are looking for new and interesting wines and would like to buy Turkish wine, then we are happy to help. We visit our winegrowers regularly and get an idea of ​​the quality in and around the winery on site. If you want to be there, by the way, become a follower on our Instagram account. We offer you a mixture of large and well-known brands, which are also very popular in Turkey, but also present small winegrowers, whom we would like to bring you closer with some very limited editions.
Our wine tours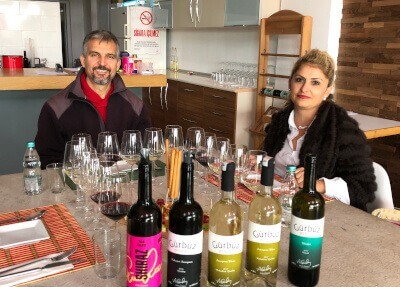 6000 years of wine history cannot be wrong
We make you want more.
The more than 6000 year old winemaking tradition of Turkey has experienced a great boom since the beginning of the 2000s. Many small winemakers have set up boutique wineries where they produce wines from international and regional grape varieties. A lot is invested in new tank technology as well as cultivation and expansion methods for the wines. This is also noticeable in the quality, because the climate and soil already offer the grapes excellent conditions.
Selection of national and international grape varieties
Try wines made from the indigenous grape varieties, such as the rowein grapes Öküzgözu, Kalecik Karasi or Bogazkere. If you like white wine we recommend Narince, Sultaniye or Emir. Here we have put together a trial package for you. Turkey has more autochthonous, i.e. indigenous grape varieties that only occur there than any other country. Even if you are unsure, ask us - we would be happy to recommend wines for an invitation, for various dishes or occasions. You can contact us here.
Viticulture in Turkey - Turkish wine as exotic
Did you know? With 448.000 hectares of vineyards in 2018, Turkey has the fourth largest vineyard area in Europe, behind Spain (1), France (2) and Italy (3) (source OIV World Economic Report 2018). This means that Turkey has around 4 times as much vineyards as Germany with 102.000 hectares. Outside of Europe, Turkey is in second place behind China. Most of the production is used for table grapes, the production of grape juice and dried grapes, only about 3% is used for the production of wine and raki.
Half of the wine produced in the country is drunk by tourists. So it often happens that holidaymakers from Turkey ask us about their new "favourite wine" and whether they can get it here. All in all, the result in Turkish wine can be seen without a doubt, and above all it can be tasted! The large number of international awards and medals at renowned wine events and tastings testify to the high level and increasing popularity, not only among wine professionals.
Turkish wine in Germany
Turkey exports only 7.000 hl to Germany (according to statistics 2017), for comparison, Italy imported 5.456.000 hl of wine to Germany in the same year. So, as a consumer of Turkish wine, you can definitely count yourself exotic, or better yet, count yourself among an illustrious circle of inside connoisseurs! And that's what we came for, because with us you can simply experience and buy original Turkish wine and raki.
Discover new wine flavors
With this in mind - discover these old and venerable wines with us, find new grape varieties, find wineries with us that produce wines using the most modern methods on ancient soil. Let yourself be surprised by the incredible variety of wines from a country with a great winemaking tradition that has long been forgotten. We would be delighted if you share our passion for it and we can take you on an exciting journey of discovery! With this in mind, have fun browsing and Şerefe wishes you
Your Sarap.Online Team ...