Kocabag wines
On this page we offer you wines from the Kocabag winery, such as Kocabag Öküzgözü, Kocabag Kalecik Karasi, or Kocabag Leos.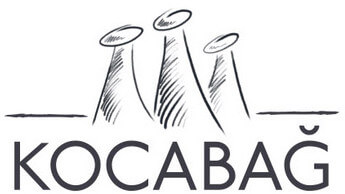 Information about the Kocabag wines and the brand
Kocabag Wines is founded in 1972 in the Cappadocia region. The founder, Mehmet Erdogan, processes the rock in the garden of his village house and transforms it into a unique wine cellar carved into the rock. In this wine cellar the grapes that he has grown in his vineyards are processed into wine. He starts the first production with the vinification of his own vineyards as well as some vines bought in from the Cappadocia region.
After selling the wines, which he had made in large quantities for a long time, he started his first branded production in 1986 by printing his own labels on the bottles. In today's wine sector, Kocabag is one of the best wineries in the region, whose products are the most sought-after. The rock cellar, which offers a constant temperature of 8-10C, has a positive effect on the quality of the wine.
The autochthonous grape varieties grown in the vineyards are Kalecik Karasi, Öküzgözü, Bogazkere, Narince and Emir. The company owns 35 hectares of vineyards on which the aforementioned grapes are grown.
The main goal of the company is to offer different flavors of wines in the best quality. Kocabag exports its products to the USA, Canada, Germany and Japan.