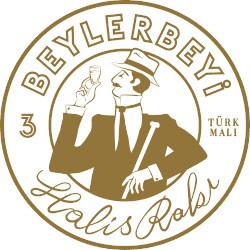 Beylerbeyi Raki
On this page we offer you raki from the Beylerbeyi brand, such as Beylerbeyi Mavi or Beylebeyi Göbek.
Information on the "Beylerbeyi" varieties and the brand
Beylerbeyi is a brand of the company Sarper Icecek Sanayi ve Ticaret AS which originally comes from the tobacco sector. In 2007 the company started the production of raki as the sixth private company in Manisa Akhisar. First, Beylerbeyi Raki Göbek was launched as a triple distilled raki with the slogan "Raki of Gentlemen".
The name was also inspired by this thought of the gentleman, because in Turkish Beylerbeyi can be translated as Grand Seigneur or English gentleman. The triple distillation of the Göbek (translated belly, i.e. the middle and particularly high-quality part of the distillate) was relatively little widespread in the market at that time. This method enables a high degree of purity of the raki, as only the highest quality part of the distillate is used in three distillation passes.
Beylerbeyi counts the distillation of the grape must in order to increase it to 8-10% alcohol in order to obtain the suma, in which the aniseed seeds are then introduced for maceration, not as a distillation process. So Beylerbeyi distilled the suma 3 times. This is one of the reasons why the Beylerbeyi Göbek Raki is particularly valued by connoisseurs.